How do you start a blog that ends with a shit Elvis spinning a homemade wheel of fortune on stage in front of 300 people?
(Shit Elvis and 'Real' Elvis on stage at The Brudenell Social Club)
It's hard enough at the best of times to put into words a Hope and Social gig, but last night's Sh*t Vegas extravaganza at The Brudenell Social Club was even more bewitching, beguiling and bewildering than normal.
Not content with being a band of talented musicians, Hope and Social are first class entertainers in the truest sense of the word. Their policy of putting their fans enjoyment before all else, including the chance to earn money, leads to performances that need to be experienced to be fully appreciated.
It would appear that any takings from the preceding UK tour were all ploughed back in to last night's event, which included shit bags (goodie bags for the losers of the wheel of fortune that contained fellow band members' James Hamilton and Gary Stewart's albums), a local Elvis impersonator, and half of B&Q's MDF inventory in order to construct a flashing Welcome to Vegas sign and fully functioning wheel of fortune.
As a fan it's fair to say you don't quite know what is in store for you at one of their gigs. As a result you never ever want to miss one, just in case. Their enthusiasm to please demands such loyalty and devotion some even fly half way round the world just to be there in person (shout out to you Ellen).
Imagine my delight then when Si, lead singer, asked me if I'd like to help organise their last gig of the mini tour. But it would involve finding them an Elvis. Erm, yes. Where do I sign?
Although my contribution was small in comparison to the other regular contributors (Ben Denison is a god amongst gods, and Jenny Booth a star of the highest order who makes the best signs in the world, fact), it meant I was able to come along extra early on the night as an official groupie. I even got a slice of pre gig pizza back stage with the band. I tried my best not to be a total knobber in front of them, but not sure I pulled it off.
More importantly though it meant I had an excuse to dress up as a very shit Elvis along with obligatory bouffant wig, oversized black and gold polyester jumpsuit, plastic medallion, and silver sunglasses.
Unbeknownst to the boys from Hope and Social I have a bit of a track record of showing off in public. None of them had previously had the misfortune of seeing me in full swing at a wedding or office party though. Had they known what I'm really like they may have thought twice about asking for my assistance.
The script couldn't have been written any better for me. The chance to go up onto stage to dance with the real Elvis impersonator (I didn't need much encouragement), I was able to bust moves in front of a very forgiving crowd. In my head I really was in Vegas. All my Christmases had come at once.
My wife was yet to arrive at this point, which she was quite pleased about as it happens. I think she finds my exploits a tad embarrassing these days. But undeterred I was saving the best for last. As the gig drew to a close I was invited up to spin the wheel. Would I win the chance to pick a song for them to sing, or a shit bag? Click, click, click went the wheel, until it came to its final resting position….'Doom'. Immediate ejection with the baying crowd shouting 'out, out, out'. I was unceremoniously kicked out of the nearest fire exit. As the doors closed in my face, I could faintly here those immortal words: 'Elvis has left the building'. Ba dum tisch. You couldn't make it up.
When it comes to realising people's dreams, who needs Jim'll Fix It when Hope and Social are sprinkling their gold dust around? It was the perfect night, and the perfect culmination of resolution number 4. While I haven't actually sung in public sober, I have now swung in public, hips that is, albeit badly, and not particularly sober.
I was on stage in front of my favourite band of all time, who I now class as my friends (they may not class me as one of theirs btw, but don't spoil the illusion just yet).
It was an absolute honour and a privilege to be a little part of proceedings.
Thank you, thank you very much. Good night. God bless. Err, huh huh.
Here is a YouTube clip of shit Elvis spinning the wheel of doom and being ejected from the building - http://youtu.be/j7Wei5ZCykE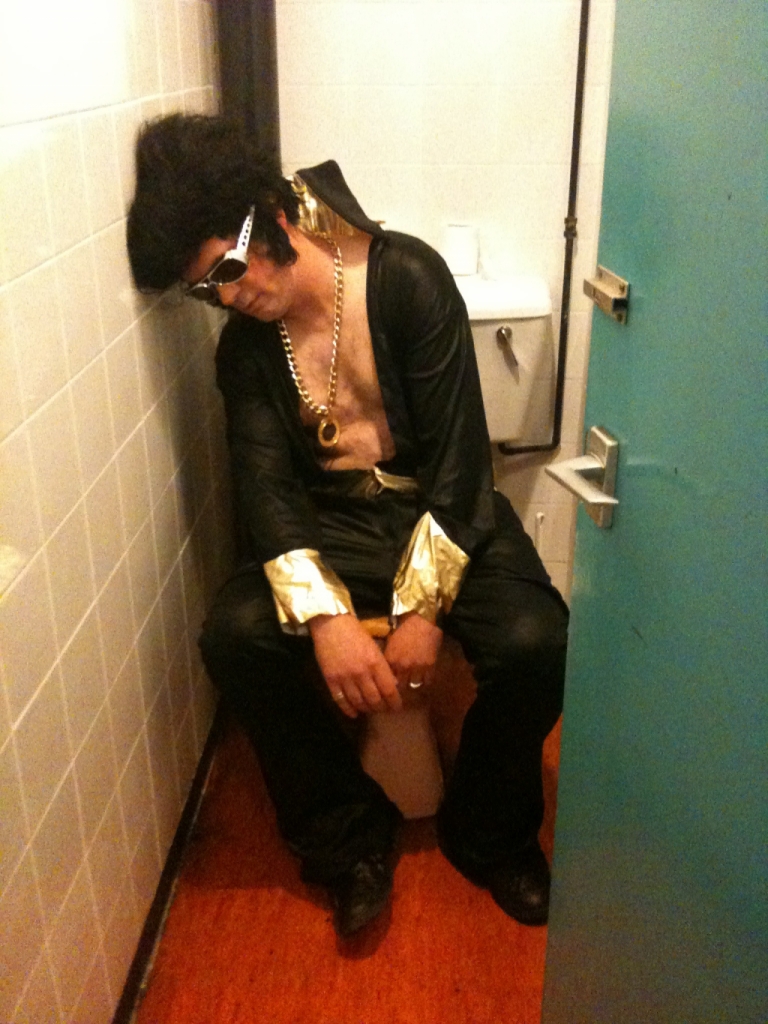 (Shit Elvis dead on a toilet back stage in the Brudenell Social Club)
N.B. For those that missed it, or were as pissed as me and need reminding, thankfully East Leeds FM recorded the whole gig. You can listen again or download it here: http://www.elfm.co.uk