Introduction to our 31 days in South Africa
South Africa had never been on my list of places to visit. In fact it's fair to say I've always had a bit of a problem with the place ever since I watched Cry for Freedom in the late 1980s (http://en.wikipedia.org/wiki/Cry_Freedom).
Since then I've allowed my prejudice to fester assuming South Africa was still a dangerous place full of racism and injustice. Then, having decided to take a career break we were in the position of being able to go travelling for the entire school holidays. Europe in a campervan? Asia? A safari? Ireland?
Becky started to gravitate towards Malawi and Mozambique, but the more research we did the more we worried about travelling with the kids, the need for malaria medication, and memories of Ella (N.B. this is not her real name, I've decided to give both my kids an alias in this blog so they can remain anonymous online for a little longer) falling ill at six months old in France and all the hassle of being in hospital while a long way from home.
In the end South Africa just seemed to make sense. But you would not believe how often we were told we were taking a big risk, with the murdered British bride in a taxi in Cape Town still fresh in people's minds. We were also warned the harsh winter was no time to travel along the southern coast of Africa with kids, "Why on earth would your kids want to play on a beach in the freezing cold while you stand there and whale watch?". Why indeed?
There are times in life when you have to weigh up all the advice you've been given, and then choose to ignore it. This was one of those times.
However, I'd be lying if I didn't say we headed off to South Africa with some trepidation, fearful something awful may happen, knowing we'd never forgive ourselves. Not to mention having to put up with a queue of people telling us they told us so.
Well, I'm pleased to report we survived to tell the tale. And what a tale it is. South Africa is one hell of a country. Becky now wants to live there, and even I, normally the naysayer when my wife has such flights of fancy, am tempted to take the plunge too.
Thank goodness we stuck to our guns.
I hope you enjoy the journey as much as we did.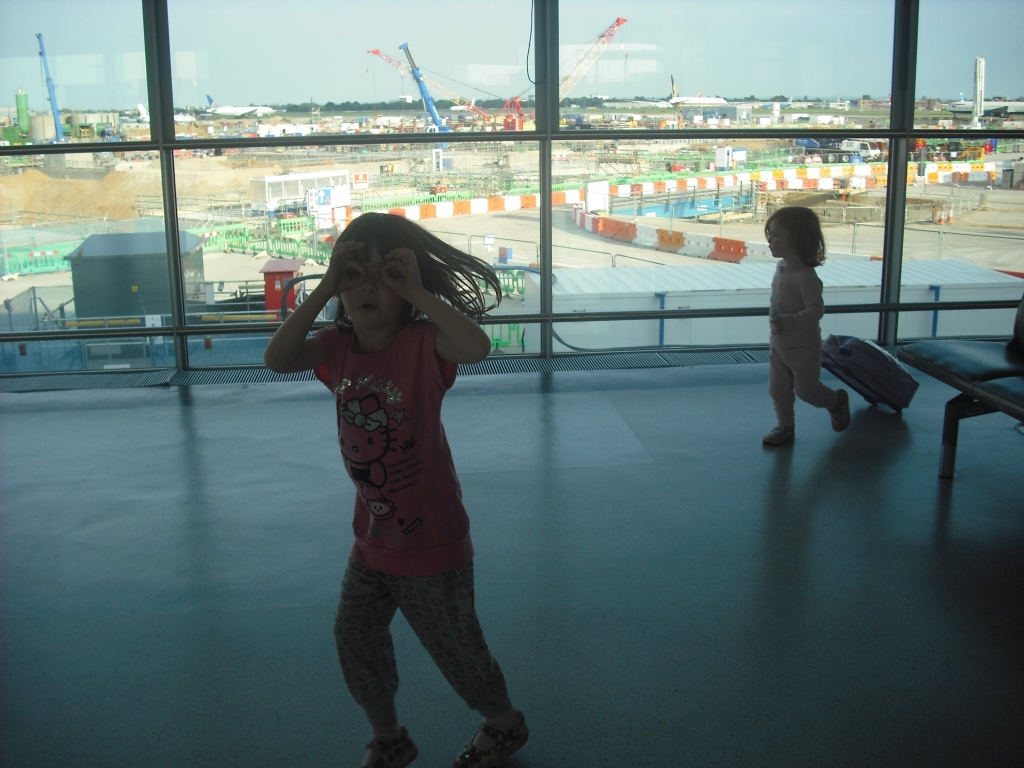 Caption: Heathrow Airport 31st July 2011
Day 1
We made it to Port Elizabeth unscathed, putting aside the lack of sleep on the plane, and the usual stress of worrying that your passport has run out, the boarding cards are for the wrong flight, or the hire car hasn't been booked.
I'm already happy to admit my first impressions of South Africa are better than predicted. Jo'burg airport was not threatening at all. For instance when I entered the men's toilets, the very attentive attendant welcomed me to his lavatories, told me to take a seat, then proceeded to sanitise and wipe clean the already very clean pan. Unlike those suggestive attendants in swanky bars in London, he wasn't after a tip.
The latte and banana muffin I bought was also bang on. There were no prices next to the products on the black board, which did make me wonder if I was about to be royally ripped off. But nothing of the sort. The coffee and service knocked the socks off Starbucks with the baristas' enthusiastic shouts. Fair play.
The short hop to Port Elizabeth was fairly stress free. I'm amazed how well the girls have travelled considering we've been on the go for 14 hours.
Arriving at Port Elizabeth airport instead of Cape Town is like arriving at Leeds/Bradford compared to Heathrow. One terminal. Straight-forward collection of luggage, and the hire car office right outside with no annoying queue. Having collected our Chevrolet and checked it for scratches we managed to go the right way out of the airport for the first time in living memory.
I'm still obviously in the early stages of adjusting to the country, so half expect to turn the next corner and be presented with a massive 'staged' car accident. We'd been warned these were common place, and regardless of what devastation we are confronted with, we must drive on. But no such drama. Twenty mins out of Port Elizabeth and the landscape starts getting hillier and greener. We reach the outskirts of Addo Elephant Park in less than an hour.
Our little B&B is just off the main road down a little dirt track for a kilometre or so. Despite being ring-fenced with electric cable and an ominous security sign that says something like '24 hour armed response guards', is a hidden land of tranquillity. The palm in the centre of the premises is huge, and looks about 300 hundred years old (since been told it is 100 years old, but even so). It is immaculate, albeit stuck in the late 70s, the decor will soon be back in vogue though, so they shouldn't change a thing.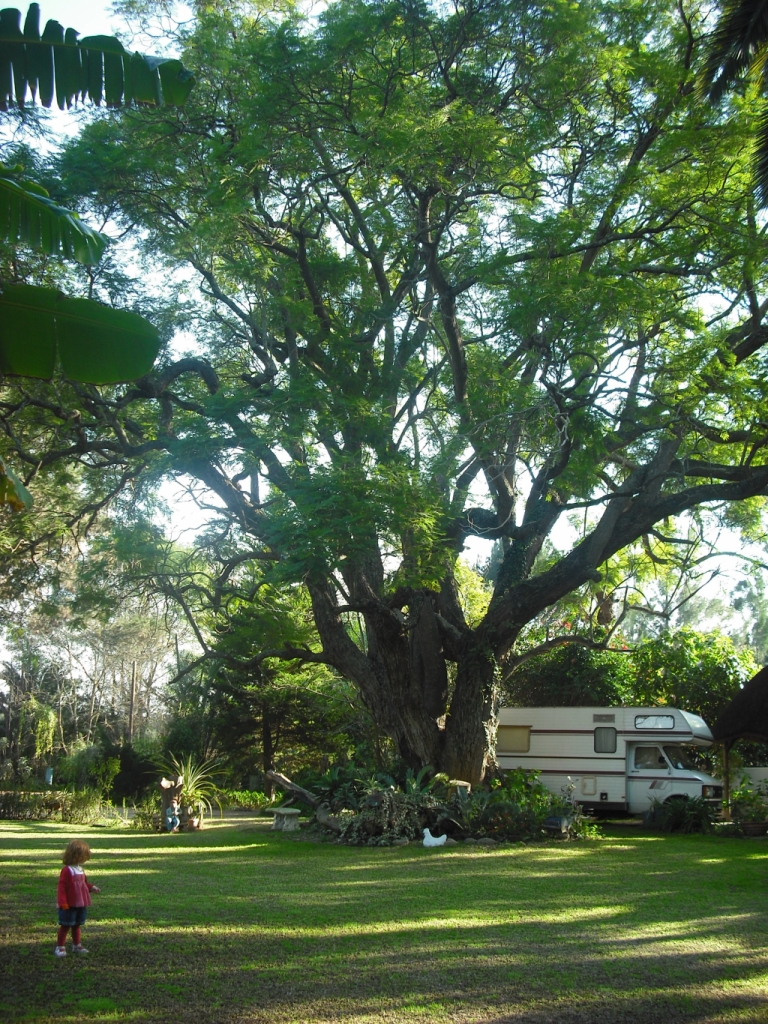 The kids were in bed really early in part because we were all knackered from the journey, but also the sun setting at 6pm plays havoc with your brain when you're used to it still being light at 9pm. The last minute purchase of a Netbook has proved particularly handy already. The girls watched six episodes of Peppa Pig before bed, and we have just watched our first ever episode of the Sopranos. Behind the curtains of our ground floor apartment, and across the yard there's a blazing fire/bbq (they call them braais here apparently) with a few people sat around it. Nothing stopping me going over there other than my Englishness, a lack of sleep from last night, and the fact that it is bloody chilly in South Africa at night and cosy and warm in here. Thank goodness for the electric blanket below me.
Tomorrow I promise to be more gung ho. We've decided to do a full on safari drive in the afternoon which could go one of two ways. The kids will either love it, or Ella will have an 'accident' within 30mins and Holly will spend the whole time asking if 'we're nearly there yet?'.
The blurb in the room sounds good though, this particular private game reserve has been family run since the early 1800s. We're going on the Tooth and Claw tour which starts at 3pm, and finishes at 7.30pm, we then get to eat round a camp fire. No need to worry about my Englishness tomorrow. Just kids wanting to go home to watch Peppa Pig and do impromptu poos on the bathroom matt – I'll spare you the detail.
Day 2
Well, as it turned out Magda, the lady who owns the guest house advised us against doing the evening safari as there were only open top vehicles left and she was worried the girls would be too cold. We did however spend six hours at Addo Elephant park exploring the grounds on our own, in our own car. Within a few minutes of entering the park we saw an elephant off in the distance, then found zebras, a few wart hogs here and there and Kudu, then after a picnic lunch in an enclosed area to protect us from lions and rhino we turned a corner on one of the main roads and almost ran into another family of elephants. As we sat there capturing as many photos as we could, Holly said she heard something at the back of a car, and sure enough another elephant was venturing out of the bush towards us. I must admit I panicked a little and hit reverse just in case he took a dislike to our blue hire car.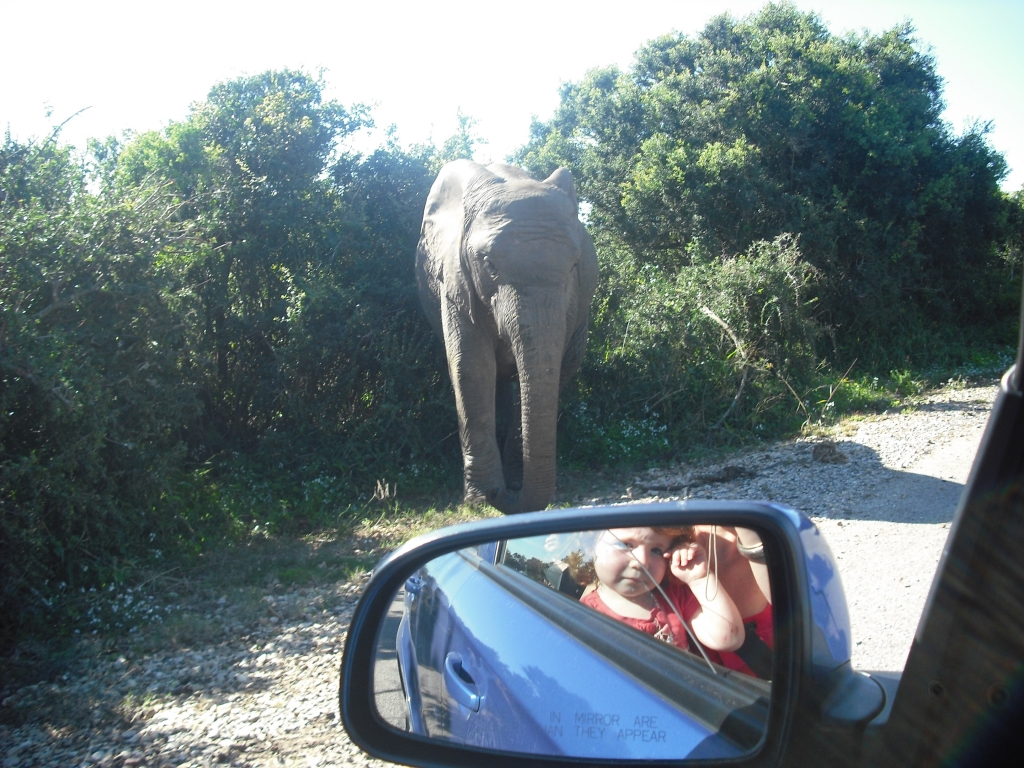 Needless to say our close encounter is Holly's favourite part of the holiday so far, other than the amazing breakfast at the Homestead courtesy of Magda.
Day 3
Today we drove for three hours to Graaff Reinet through amazing plains with mountains on the horizon. Our colourful dwellings from the outside (we're in a purple house called Flower Power), is a bit dull on the inside, although the kids don't think so.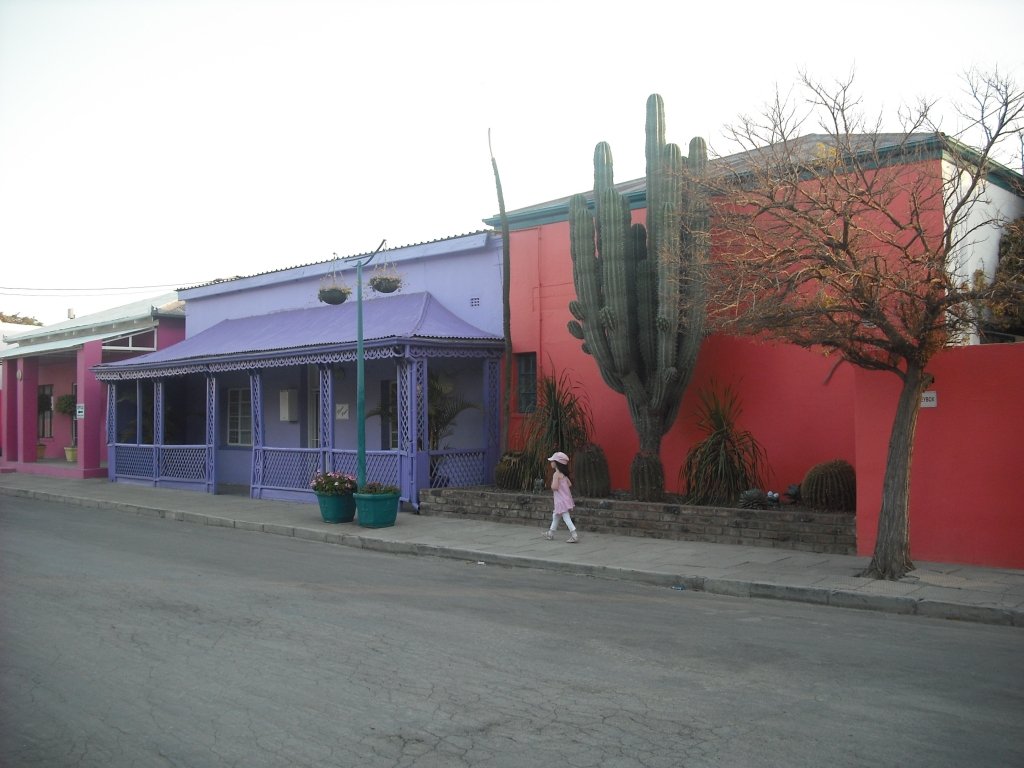 We also went out for a proper meal tonight, having slummed it last night with a tuna, tomato pasta dish cooked on very rudimentary appliances. Reminded me of travelling with my best mate Aliy through Australia in 1994. Back then we were so skint (or stingy) we used to relieve the local supermarket of a clove of garlic rather than buy a whole bulb (forgive me father for I have sinned).
Tonight's meal, which cost £33 in total – was made up of two rump steaks, a chicken breast done in mustard and honey, and local sausage (can't remember the spelling), all served with chips. We had a bottle of Shiraz, the girls' juice, and finished off with a crème brulee, and three milkshakes. I also took advantage of the free wifi (the first bit of online action since we arrived [Twitter fix granted]).
My dad's external disk drive and the Netbook have so far served us well. The girls got to watch Angelina before bed, and we got to watch the Sopranos again. However, the DVD from Love Film was only three episodes long, so that's it now. Bugger.
Tomorrow we plan to head to Nieu-Bethesda (sounds a bit like the New Beth Asda).
Day 4
After a slowish start to the day, what with having to obtain cash from different cash points to then pay half of it into another bank to pay for a guest house somewhere along the way, we eventually headed out to Nieu-Bethesda. I'm still a bit wary of people when I'm taking cash out. Probably being overly paranoid, but you just don't know.
Nieu-Bethesda is a remote Dutch village founded 150 years ago in the far away hills and valleys 50km from Graaff Reinet, which itself is 200km from Port Elizabeth. It totally staggers me how people 200 years ago had the inclination, determination and drive to make it all the way from far away Europe to the southern Cape of Africa, then manage to get 200km in land, dodging lions and rhinos on the way. The drive there today was hairy enough. And it turns out the village we visited only had a tarmac road from the main highway since last September. It is debateable depending on your view point whether the tarmac road is a good thing or not. Most of the inhabitants nowadays are fairly recent movers there, artists or artisans of some sort, who clearly crave the isolation, beauty of the wilderness, and the occasional tourist like us to show off to.
Becky spotted the beauty of the place immediately. I took a while to warm to it. The photos make it look cold and wintery, and by their standards it is both. But it was high teens in centigrade. Ella wore a t-shirt without cardy the whole time we were there.
We wandered around for an hour or so, popping into art galleries and little shops and cafes speaking to everyone we met. Including an artist who moved in last September, a family who moved there three years ago whose 'princess' daughter was three today, and a cool looking goaty bearded chap who runs a brewery / deli on the outskirts of town.
Becky would've loved to have stayed there for a couple of nights. The isolation and tranquillity would be hard to match.
Highlight for me was a pint of beer at the brewery, which was served with the brewer's own homemade cheeses (that sounds odd on reflection), kudo salami hams, olives, quince jam and pickles. A close second was the Owl House. A shrine / art gallery / magical fairy tale land, all wrapped up in the heart of the sleepy village. The story of its creator is a little tragic. Married to a local teacher at 21 she was later betrayed, and left alone, forced to return to her home village to care for her sick parents. She was a recluse who lived out her fantasies through the form of mad sculptures. Loads of owl like creatures, camels, and then oddly, lots of religious scenes, with Mary and Joseph, the wise men etc. All a bit mental really, and not what you expect to find based on the rest of the surroundings. But clearly one of the reasons why other artists have chosen to set up shop here.
One last thought on today - without tempting fate, everyone we have met so far has been extremely welcoming. Older white folks fawn over the girls, in part due to Ella's red hair, which is obviously not common over here despite the Scots being prominent 200 years ago. We are constantly advised not to leave anything on view in our unattended car, and warned about the 'dangerous' roads. We obviously are remaining very vigilant, but it is also hard to gauge the level of concern expressed with the actual risk. Let's hope we don't find out the hard way, but my hunch is as long as you are relatively streetwise, then you'll be ok. So far at least, we have had a fairly stress free journey.